6 Best AI Content Generators for you in 2023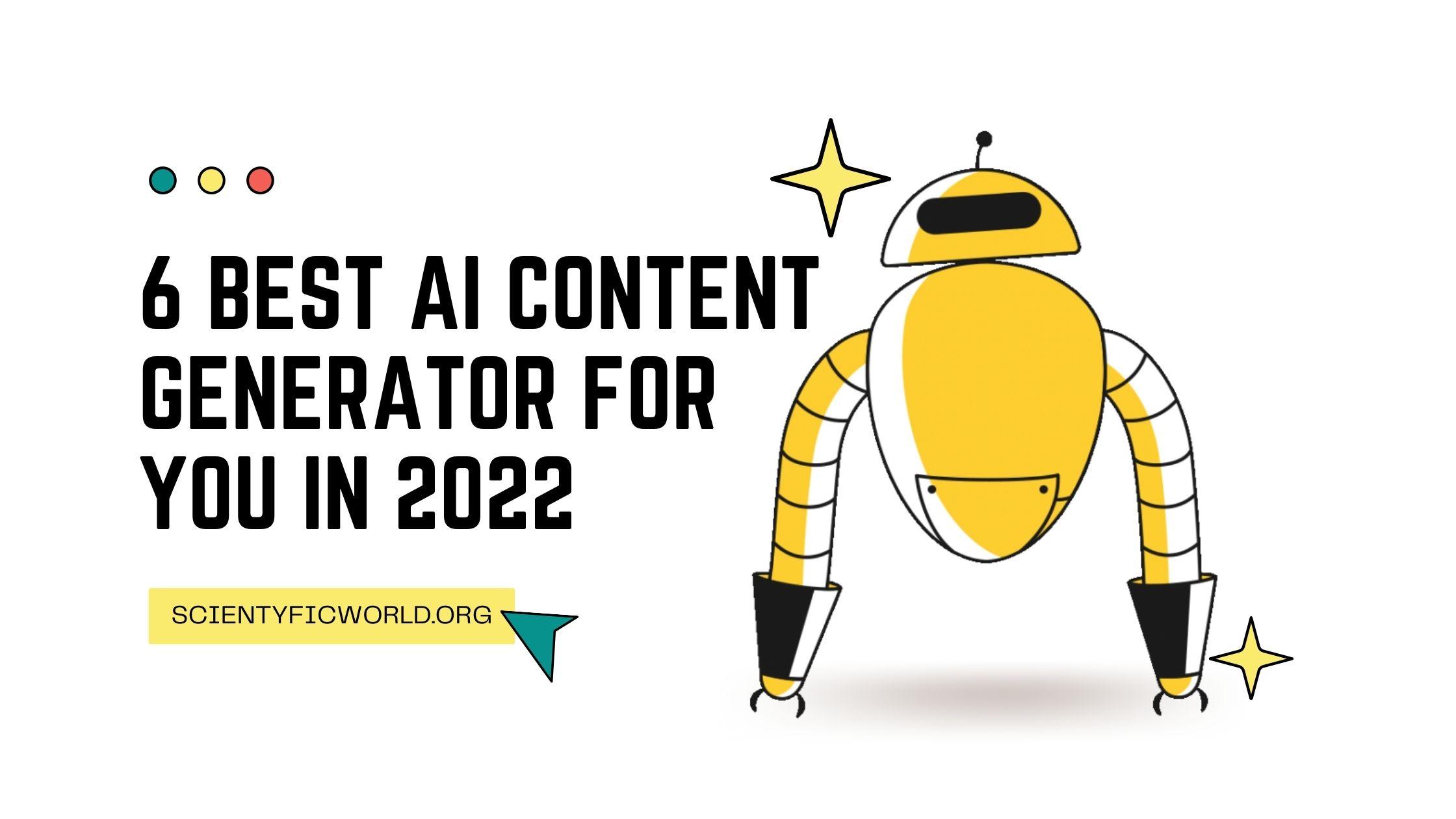 Have you ever thought to use an AI content generator to create your copy, blog content, or maybe your social media post?
If so, then in this article I would like to share my top 6 recommendations with you.
If you are new to this technology, then let me allow to give you a glimpse of what is exactly an AI content generator and what it can do for you.
What is an AI content generator?
Artificial intelligence tools are the latest trend in content writing, blogging, and overall copywriting in general. People, especially big companies always want to put some great content on their websites, but sometimes it may be quite costly to hire a content writer to write high-quality content for their website. Whereas AI can help you to build high-quality content with a minimal amount of effort and cost!
You may think that oh! I've to deal with AI, means there must be needed a huge technical knowledge, but it is not true at all. AI content writing tools are very easy to use. Using an AI tool is so easy that anyone can use it and most content writers and other professionals are using this as a writing assistant.
---
FAQs:
Why I'm doing this FAQ section at the beginning?
Because these are the most common questions, and I think before going to further details and start exploring the different AI content generators, we need to know these two questions first.
How is AI content generated?

In an AI content generator software, most of them use GPT-3 technology provided by Open AI. So in these types of software, if you give a keyword, they search that on the web and find the best relevant result for creating their content. This way they create a bunch of heading, sections, and so on.

Is AI writing free?

See there are lots of AI content generator software. Some of them are completely free, some are paid and some of them are paid but for a limited period, they provide you with a free version. In this article, we're actually going to study that.
---
Now, there are so many content generator tools available online. Some of them are free and some are paid. Also in some content generator websites, you can get a trial period, where you can first try out their tool. Now the price and features may vary on different sites.
Let's start with-
Free AI content generator tools:
1. RYTR:
Rytr's AI writing software uses GPT-3 based language models (provided by OpenAI). This technology has been trained on large parts of the internet to predict the probability of the next word given an input scenario.
It can source words from databases online for text prediction capabilities and create plagiarism-free articles in your preferred style with just one click!
FEATURES:
Rytr has over 30 use cases and templates including:
Emails
Profile Bio
Product Description
Facebook, Twitter, LinkedIn ads
Copywriting frameworks such as AIDA and PAS
Business Idea Pitch

Blog article ideas

Blog outlines and so on.
You can also choose the right tone for your unique content from over 20 options.
Just select the use case, enter some input for context, and the rest will Rytr do itself!
You can also write your own sentences to guide Rytr. There are also lots of functions available, using which you can customize your article. And obviously, you can edit the generated content as per your needs.
PROS AND CONS OF USING THE FREE PLAN
Let's see what you'll get in the free version of Rytr.
PROS
Access to all use cases
Access 30+ use-cases
Write in 30+ languages
Access 20+ tones
Access of built-in plagiarism checker
CONS
5000 characters limit per month
2. SIMPLIFIED:
First of all, Simplified is not just an AI content generator tool, it is more than that. It is an Ai-powered designing tool in which the content generator is just a part.
With 30+ templates, this AI tool lets you generate high-quality, engaging AI copy for ads, sales copy, company bios, blogs, and many more.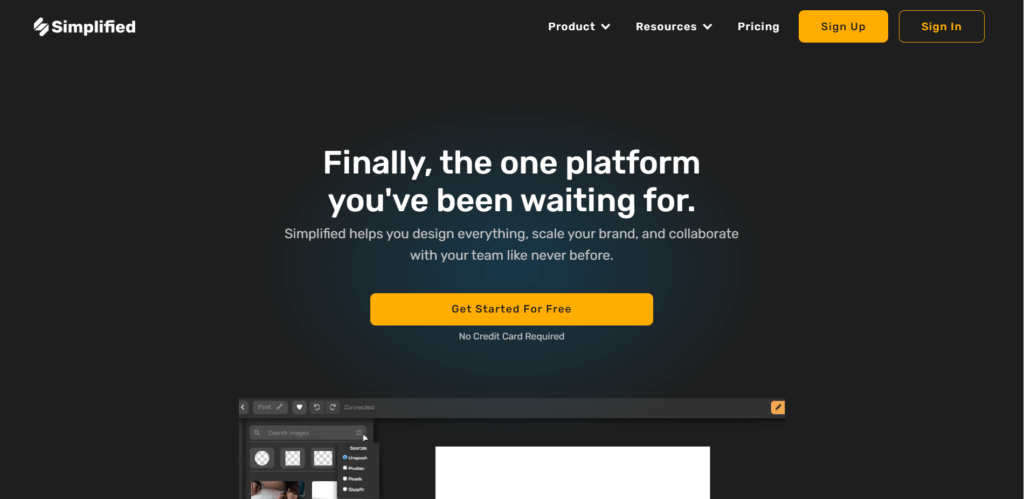 FEATURES:
Simplified's free AI content generator helps you to write new copy from scratch with the long-form editor, rewrite the existing text, or improve your content. You just have to give some key information and the rest will be done by the AI.
PROS AND CONS OF USING THE FREE PLAN
The free plan has no time limit.
PROS
Unlimited design & video projects
Millions of free stock photos & videos
Thousands of free templates
AI writer

30+ AI copywriting templates

Collaboration & guest sharing up to 5
Instant publishing to social media.
1GB of workspace storage
CONS
Paid AI content generator tools:
1. CONTENTBOT:
ContentBot is a powerful AI content generator tool. It can generate both short-form and long-form content.
This software tool has two AI engine options:
The first one is- GPT-3 (by OpenAI) for generating high-quality content quickly.
The second one is- Tinyseed. This produces lower-quality content but in higher quantities.
Although ContentBot isn't a free AI software its minimum cost is $1 for 1000 words.
FEATURES
ContentBot has plenty of great features.
Here are some of the content types that ContentBot can create:
Blog copy — topic ideas, blog outlines, intros, and full blog posts
Marketing copy — marketing ideas, landing pages, AdWords and Facebook ads, brand names, slogans, video ideas and descriptions, and page headlines
Sales copy — sales emails, pitch, Pain-Benefit-Solution, Pain-Agitate-Solution
PROS AND CONS
The ContentBot free plan does not have a time limit.
PROS
In the prepaid option, you can use this option how many times you want and they will provide you 10k words for free at your first purchase.
CONS
The user interface is a bit complicated
It charges $1 for only 1000 words which are not justified at all
To get the SEO tools or plagiarism checker tools you've to purchase the premium on
2. JASPER AI
Jasper AI or you may know it as Jarvis AI is the best content assistant among all of these. If you need help with content-related work, Jasper will be the best choice for you. Although it is a paid AI content generator, believe me, you will never regret it.
This AI content generator can assist in the creation and preparation of all types of marketing copy, social media profiles, blog posts about new products you are releasing, and much more. Jasper has over 50 copywriting templates.
To get high-quality content, you just need to select a template and then you've to provide some information
— like the title, a description, keywords, the tone of the content to use and the rest will Jasper do for you.
You can also easily generate long-form content with Jasper. All you need to do is write one sentence or paragraph and let the software handle everything else!
The software uses an algorithm that analyzes your text in order to tell what type of article it is. Then, it continues writing based on what it has read. Even you'll get direct control over his behaviour in editor mode.
For example, tell Jasper to "run content improver" for a paragraph or "write a conclusion paragraph for [topic name]."
3. AI WRITER
AI Writer uses artificial intelligence and machine learning to create unique articles for your website.
You just need to enter a topic or headline the software will create accurate, unique content in minutes.
With the AI content creator, you give a caption, and it will also scrape the web to collect applicable information.
With this software, you need to provide a headline and then it will scrape the web for the most relevant information.
This data then is used to rewrite an SEO-friendly article with original and high-quality content.
Every source used is listed for your reference.
It has an easy to use interface without any unnecessary things, which makes it perfect for those who just want to focus on writing content.
Even if you want to renew a previously published article then you can do it very easily. You just have to use the rewording function for your content.
AI Writer can work on iOS, Mac, Windows, and Android. It includes Dropbox and iCloud syncs.
4. ANYWORD
With Anyword, you can have complete control of your content and ensure it's engaging.
In my opinion, after Jasper, this software is the most useful AI software.
With its AI-powered copywriting options, you'll be able to generate messages for your ad campaigns or blog post, social media posts, etc.
It has a predictive performance score feature which is one of its most impressive features. It gives you an idea about how well your copy will convert.
Till now no other Ai content generator gives you this feature.
The Blog option lets you go from a blank page to a full quality post in minutes.
You start describing the topic of the blog post you want to create and list your keywords.
Anyword will then provides you with a list with a bunch of titles to choose from. Each of them scored by its predicted engagement score. If none of the titles sounds good to you, you can regenerate it or can also write your own title.
Then Anyword generates an outline for your content. Here you can edit, add more sections, or generate again.
Next, some options for an intro paragraph are generated. Once you have selected the perfect intro for your article, it will take you to the editor.
in the editor, here you can create paragraphs for each section of your post. You can select the length of the paragraph and regenerate it if you don't like it.
Now, finally, after completing all the steps, the article can be copied for further editing or publishing.
Anyword offers you a free 7-day trial on the Starter package. Unfortunately, this does not include the predictive scoring feature. This is the only drawback of this content generator.
CONCLUSION:
Now it's time for the conclusion. See if you want to create an article for your blog, then my personal opinion is to create on your own. Don't take help from any AI. It improves your thinking skills, writing skills. If you are a blogger just like me, then try not to use an AI content generator. See even if you're a beginner, then you may check the free tools but never go for the paid tools. If you have the money to spend then only go for the paid AI tools.
These tools are providing so many features which are helpful for marketing your product and like that. So, if you want to promote your agency, blog or company then also these tools will be helpful for you.
Hope this article was helpful to you, thank you..